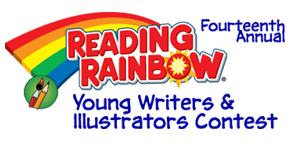 I had the pleasure Monday of reading the Kindergarten entries for our local PBS station's
Reading Rainbow Young Writers and Illustrators Contest
. I can't discuss the stories (there are 2 other kindergarten judges, and we need to come to consensus about the rankings), but WOW.
What was amazing to me was how well most children have already absorbed what makes a story, and how illustrations enhance one. The art media used for the illustrations included crayon and marker, of course, but also watercolor and crayon resist. Many stories had a strong pattern to them, and weren't just a series of disconnected statements. I was also delighted by how often the stories clearly showed close observation of the world around them. How the sunset reflects on water, how rainbows move when you try to find one, how desert dust devils look, and on and on.
Bravo to all of the contestants! You did very well indeed.
Winners of the 2007 contest are viewable here:
Arizona Public Media
. The 2008 winners will be announced in May.